Copyright © 2016 International Pharmaceutical Federation FIP, All rights reserved.
Registration is open!  (To see Discounted Flight Ticket click Here)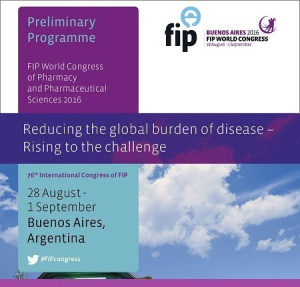 The International Pharmaceutical Federation looks forward to welcoming you to the city of Buenos Aires, Argentina, in August to rise to the challenge of reducing the global burden of disease: the theme of the 76th World Congress of Pharmacy and Pharmaceutical Sciences. Of the top 10 causes of death around the world, nine are diseases. Pharmacy today is not just about treatment but about disease prevention and health promotion. You can choose from over 250 hours of congress sessions. Are you ready for the challenge? Take a look at the congress programme and register to join colleagues from over 100 countries.
Abstract submission
The FIP congress is a great place to promote your research! Submit your abstract before 1 April 2016. Abstracts may be about pharmacy practice or pharmaceutical science, and there are 18 subtopics to choose from, including academic pharmacy, health & medicines information, drug design & discovery, biotechnology and regulatory sciences. The full list, guidelines and the online submission form are available here. The FIP Abstract Mentoring Programme gives extra support for authors with limited or no experience of submitting an abstract for a scientific congress.
Immunisations – Get the skill
The American Pharmacists Association (APhA) will give immunisation training at the congress, providing the necessary skills for pharmacists to become a primary source of vaccine information and administration. This 20-hour programme includes a 12-hour self-study component to be completed before an eight-hour seminar at the congress. The course includes the basics of immunology and focuses on practice implementation and US-based legal/regulatory issues. This course is a special congress satellite meeting.
Last chance to apply for a congress scholarship
Every year, the FIP Foundation awards a number of congress scholarships to enable pharmacists or pharmaceutical scientists to travel to the FIP congress in order to develop, or to help others to develop, skills and/or knowledge in line with the objectives of the foundation. The deadline is 31 January. Click here for information.
And finally…
Did you know that Buenos Aires is known as the Paris of Latin America? Its cafes have hosted literary greats from Lorca to Borges.
Stay tuned for more hot news from FIP.
Loved,
TPIC