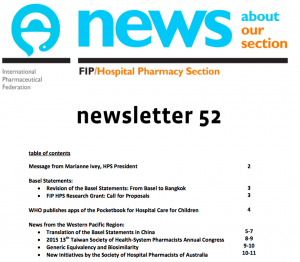 Dear all,
We are very honored to share this information that Hospital Pharmacy Section, International Pharmaceutical Federation (FIP HPS) eNewsletter – December 2015 has published two Taiwan Pharmaceutical Event stories as acknowledgement our efforts and achievements in the field.
November 7th 2015, Taiwan Pharmaceutical International Collaboration Center (TPIC) had held an international Symposium "Generic Equivalency and Biosimilarity" in Kaohsiung Medical University, Kaohsiung, Taiwan.

Page 9-10 
2. November 8th 2015, Taiwan Society of Health-System Pharmacists(TSHP) Annual Congress. Page 8-9
Read more in the newsletter now!  Cheers!
FIP HPS Newsletter 52_Dec 2015